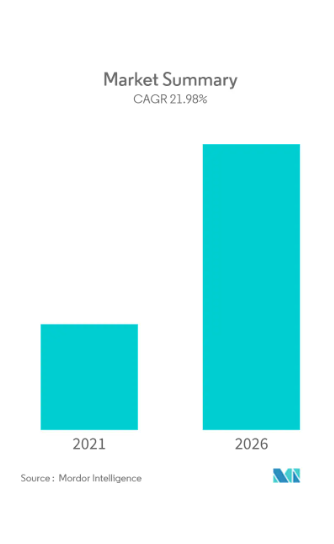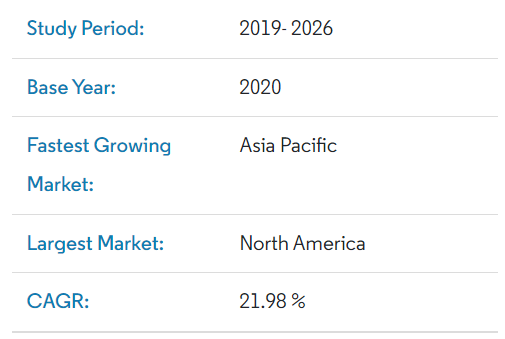 The global smartwatch market was valued at the volume of 68.59 million units in 2020, and it is expected to reach 230.30 million units by 2026, registering a CAGR of 21.98% during the forecast period (2021-2026). With the recent outbreak of COVID-19, the global demand for electronics slumped significantly during the first quarter of 2020. However, the sales of wearable devices such as smartwatches witnessed a major influx from online sales, cutting out various other costs involved in sales, owing to which the buyers were capable of buying products for lower prices on online platforms and comparing features and prices.
Due to the rising penetration rates of urbanization, the demand for aesthetically appealing advanced products to serve better the consumers' requirements, such as time schedules and multiple features in one device, has been driving the need for smartwatches globally. Moreover, the huge millennial population has been adopting smartwatches due to the increased spending for their regular work hours tracking and luxury standards.
Smartwatches are seeing a surge in new users, including the older age population, because wearable makers, many smart wearable devices are adding health-monitoring features that appeal to older people and keep them updated about their health status in real-time. For instance, features a fall detection app and an EKG monitor or added a feature to detect sleep apnea. Even expected to feature glucose monitoring for people with diabetes.
Consumers are trending toward connected monitoring devices, spurred by the COVID-19 pandemic, and this trend is expected to ramp up through 2021. According to the Consumer Technology Association, US tech industry revenue will reach a record-breaking USD 487 billion in 2021, a 7.5% y-o-y jump. Moreover, Smartwatches demand is expected to grow by 8% in unit shipments, driven by tech-savvy and fashion-conscious consumers.
One most advanced smartwatch can track heart rate, SpO2, and skin temperature, with the company now investigating whether it can measure blood pressure with a new study for Sense owners. Nearly every other adult in the United States has high blood pressure, while many do not know they possess it. It's Labs launched a blood pressure study in April 2021 to potentially measure Pulse Arrival Time (PAT), or the time it takes for a pulse of blood to reach the wrist after one's heartbeats. The company, through such developments and researches, wants to explore the potential link to tracking blood pressure and needs a wider data set.
Patients tend to forget to take their medications for many reasons. Wearables can play an important role by alerting people when it is time to take their medicines and can keep track of when they take them. Such trends are expected to drive smartwatch adoption in medical applications among individual users during the forecast period.
---
Post time: 03-10-2022