Relocation of Research Center of Medical and Health Engineering of Smart Wearable Devices, Longvon Technology(Shenzhen) Co., Ltd. start a new journey!
In the morning of 1st June 2021, the new office relocation listing ceremony was held. The relocation and establishment of the research center not only meet the needs of the company's business expansion and development, but also represent the determination and confidence of Longvon's transformation from smart wearable devices to medical and health field. Longvon will continue to promote technology research and development, product innovation, comprehensive coverage of all aspects of home medical and health vital signs, and contribute to the future of medical and health intelligent wearable industry.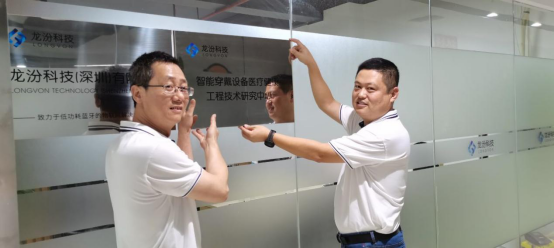 (Left: Deputy Director of research center: Chensheng Gan; Right: Director Libing Shi)
 Longvon is always committed to BLE IoT solution, with completed R & D, production and sales system. Its main business covers smart wearable device, smart medical, smart home, smart factory, indoor positioning, etc., providing professional and in-depth customized oem/odm services for customers in the whole industry. Now, establishing of the research center is based on the construction of Guangdong first-class enterprise engineering center, relying on advanced information management means, taking medical service as its own duty, and expanding two major business systems: Longvon smart health detection and management visualization system for health services, and continues to forge ahead in the field of medical health. Because of increasing of the scope and technical intensity of the research, in response to the development needs, to promote the implementation of the industrial technical standards, and at the same time, in order to provide more high-quality customers with better and reliable services, and also give everyone a better working environment, the company decided to relocate and establish the R & D center.
(Group photo of research center members)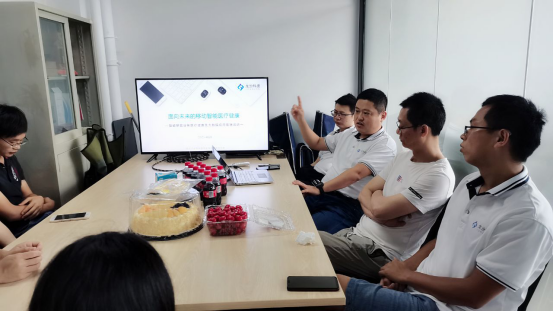 At the conference on the establishment of the research center, Mr. Shi libing, the general manager of the company, led us to celebrate the establishment and relocation.
The layout of smart wearable device medical and health engineering research center is for Longvon to grow into a more influential enterprise relying on advanced information management means and IoT services in the future. This year, under the circumstances of changeable international market and complex external environment, Longvon still achieved growth against the trend. Create and deliver value for customers according to their needs. We firmly believe in technology-based, speak with strength, follow the national policy  "healthy China 2030″ planning framework, and promote the construction of healthy China. To promote a healthy and civilized lifestyle, and reduce the occurrence of diseases.
5 years of work hard;
5 years of forge ahead;
The future can be expected!
---
Post time: 11-23-2021